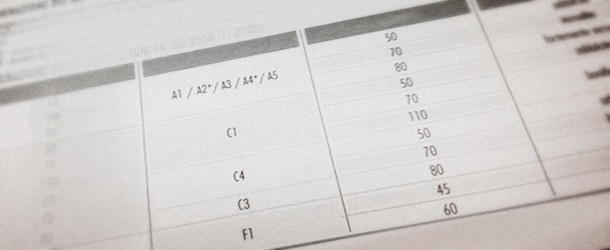 Screws and bolts Stainless
Stainless steel screws compliant with the standard EN ISO 3506-1:2009 are identified by a letter that indicates the class of steel and a number that indicates the type of steel, followed by a two-digit number that declares the resistance class (expressed as one tenth of the minimum tensile strength).
Other stainless steels produced by Rodacciai are suitable for the production of screws according to the American ASTM standards listed in the appropriate section.
Material designation (UNI EN ISO 3506-1 2009)
Group
Quality
Strength class
State
Austenitic
A1
A2*
A3
A4*
A5
50
Softened
70
Hardened
80
Highly hardened
Martensitic
C1
50
Softened
70
Quenched and tempered
110
C4
50
Softened
70
Quenched and tempered
C3
80
Quenched and tempered
Ferritic
F1
45
Softened
60
Hardened
* The stainless steels with a low carbon content (C ≤ 0.03%) may be marked with an L (e.g.: A2L-70).
Austenitic steels (Group A)
Quality A1: steels with the addition of sulfur to give them a great propensity for processing with chip removal. This addition makes them however more susceptible to corrosion.
Quality A2: steels that are able to satisfy many needs, primarily used in the chemical and food industries. Not resistant to chlorides, and therefore not to be used in marine environments.
Quality A3: steels with similar characteristics to those of the A2 quality, but stabilized.
Quality A4: steels that are more resistant to corrosion with respect to A2 thanks to the presence of molybdenum, which allows use in aggressive environments such as boiling sulfuric acid or in environments containing chlorides up to certain levels. Widely used in the cellulose, food and naval industries.
Quality A5: steels with similar characteristics to those of the A4 quality, but stabilized with titanium.
Martensitic steels (Group C)
Quality C1: steels with no specific resistance to corrosion, commonly used in the assembly of pumps, turbines, etc.
Quality C3: steels with a slightly greater resistance to corrosion than C1 quality, primarily used in the assembly of pumps and valves.
Quality C4: steels similar to those of C1 quality, but resulpherized. The sulfur confers greater machinability by chip removal, but further decreases the resistance to corrosion.
Ferritic steels (Group F)
Quality F1: steels that can be used in environments with a high presence of chlorides, replacing the austenitic steels A1 and A3.
Chemical composition (%) (UNI EN ISO 3506-1 2009)
Group
Quality
Chemical analysis
C
Si
Mo
P
S
Cr
Mo
Ni
Cu
Ti
Austenitic
A1
≤0,12
≤1
≤6,5
≤0,2
0,15÷0,35
16÷19
≤0,7
5÷10
1,75÷2,25
-
A2*
≤0,1
≤1
≤2
≤0,05
≤0,03
15÷20
-
8÷19
≤4
-
A3
≤0,8
≤1
≤2
≤0,045
≤0,03
17÷19
-
9÷12
≤1
≥5xC≤0,8
A4**
≤0,8
≤1
≤2
≤0,045
≤0,03
16÷18,5
2÷3
10÷15
max 4
-
A5**
≤0,8
≤1
≤2
≤0,045
≤0,03
16÷18,5
2÷3
10,5÷14
≤1
≥5xC≤0,8
Martensitic
C1**
0,09÷0,15
≤1
≤1
≤0,05
≤0,03
11,5÷14
-
≤1
-
-
C3
0,17÷0,25
≤1
≤1
≤0,04
≤0,03
16÷18
-
1,5÷2,5
-
-
C4**
0,08÷0,15
≤1
≤1,5
≤0,06
0,15÷0,35
12÷14
-
≤1
-
-
Ferritic
F1***
0,12
≤1
≤1
≤0,04
≤0,03
15÷18
-
≤1
-
-
* if the chromium content is less than 7%, the minimum nickel content must be 12%
** at the manufacturer's discretion, the carbon content can be greater when necessary to obtain the specific mechanical characteristics for the larger diameters, but cannot in any case exceed 12% for austenitic steels
*** molybdenum may be present at the manufacturer's discretion
Mechanical characteristics – austenitic group
Group
Quality
Strength class
Thread range
Rm1 min
(MPa)
Rp0,21 min (MPa)
A2 min
(mm)
Austenitic
A1, A2, A3, A4, A5
50
≤M39
500
210
0,6d
70
≤M243
700
450
0,4d
80
≤M243
800
600
0,3d
Martensitic and ferritic groups mechanical characteristics
Group
Quality
Strength class
Rm1 min
(MPa)
Rp0,21 min
(MPa)
A2 min
(mm)
Hardness
HB
HRC
HV
Martensitic
C1
50
500
250
0,2d
147÷209
-
155÷220
70
700
410
0,2d
209÷314
20÷34
220÷330
1104
1100
820
0,2d
-
36÷45
350÷440
C3
80
800
640
0,2d
228÷323
21÷35
240÷340
C4
50
500
250
0,2d
147÷209
-
155÷220
70
700
410
0,2d
209÷314
20÷34
220÷330
Ferritic
F15
45
450
250
0,2d
128÷209
-
135÷220
60
600
410
0,2d
171÷271
-
180÷285
1 The tensile strength Rm is calculated on the basis of the resistant section
2 To be determined on the basis of the actual length of the screws and not on the basis of the specimen prepared for the test: "d" is the nominal diameter of the thread
3 For connection elements with a thread diameter d>24 mm, the mechanical characteristics must be agreed upon between the buyer and the manufacturer and marked with the quality and strength class in accordance with this table
4 Tempered and hardened at a minimum hardening temperature of 275°C
5 Nominal diameter d≤24mm