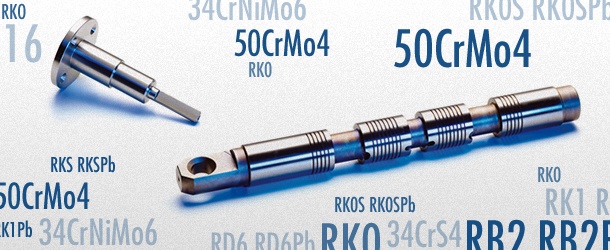 Quenched and tempered steels alloyed
Steels with alloy elements, temperable
Alloyed quenched and tempered steels contain alloy elements (manganese, chromium, nickel, molybdenum) in variable quantities and proportions that allow the desired temperability to be reached. In this way, larger pieces can be produced with structures transformed even to the core and suitable for the most demanding applications.

The alloy elements are chosen as a function of the type of characteristic that you wish to increase: for example, chromium improves hardness and toughness, while nickel has beneficial effects on resilience, event at low temperature, and on resistance and fatigue; molybdenum, finally, reduces the phenomenon of fragility upon tempering.

These steels are usually quenched and tempered in oil, which allows the production of pieces with even very complex shapes. The fields of application are quite varied: shaft-type components, gears, linkages, and mechanical pieces of any type.
RANGE Quenched and tempered steels alloyed
Steel name

41Cr4 - Nr.1.7035
41CrS4 - Nr.1.7039

A low-alloy steel with the addition of chromium only, it is primarily used in bolts for small- and medium-sized pieces.

A chromium and manganese alloy steel, no longer present in the unified standards, it is widely used in the quenched and tempered state for pins and hubs of heavy equipment and more generally in the automotive field.

Rodacciai Mark

RK0S
RK0SPb

Steel name

25CrMo4 - Nr.1.7218
25CrMoS4 - Nr.1.7213

Alloy steel with chrome and molybdenum and a low carbon content; for this reason it is one of the few quenched and welded steels that can be welded (with some precautions) and it is used in gears and for small- and medium-sized pieces. The presence of molybdenum avoids the phenomenon of fragility by tempering.

Steel similar to the previous one: the greater carbon content makes welding more difficult, but favors temperability.

Steel name

34CrMo4 - Nr.1.7220
34CrMoS4 - Nr.1.7226

Steel with chromium and molybdenum, used in the production of average-sized pieces. At the quenched and tempered state it has good mechanical characteristics and does not suffer from embrittlement from tempering.

Steel name

42CrMo4 - Nr.1.7225
42CrMoS4 - Nr.1.7227

The most widely used of the quenched and tempered steels. The excellent temperability and the absence of embrittlement fragility make this steel suitable for the production of a variety of pieces, also of medium-large size, with high mechanical characteristics.

Steel name

50CrMo4 - Nr.1.7228

Steel similar to the above, but with a higher carbon content. It is used for the same purposes, when a surface hardness obtained by induction tempering is also necessary.

Steel name

39NiCrMo3 - Nr.1.6510

A steel widely used in Italy, it is in any case included in the European standards. The addition of nickel in addition to chromium-molybdenum improves the performance of the pieces obtained, especially with regard to resistance to fatigue and vibrations.

Steel name

34CrNiMo6 - Nr.1.6582

This is the steel most commonly used in northern Europe when the addition of nickel is required by the severe use conditions. It has an elevated temperability thanks to the presence of significant levels of nickel and chromium: it is even suitable for the construction of large pieces that, at the quenched and tempered state, have well transformed structures down to the core.

Steel name

30CrNiMo8 - Nr.1.6580

Quenched and tempered steel with high temperability and toughness thanks to the high chromium content. It can be quenched and tempered at high resistance values and offers hardness consistency and uniformity. Generally used for pinions and shafts. Has average machinability on tool machines. Can be nitrided at the quenched and tempered state to increase resistance to wear and the fatigue limit.

Steel name

46CrB2 - Nr.1.7075

Steel with a limited addition of chromium and boron, which provide greater temperability with respect to similar steels with carbon only (C45). It is not unified in any standard, but is used in the automobile industry and in other fields.