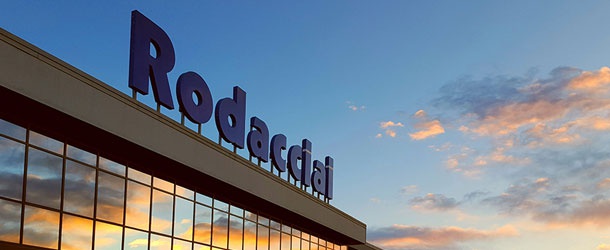 Quality
Rodacciai serves many types of clients: the production needs of these companies has led to an extreme differentiation of the demand, however with a specific common request: to obtain high quality provisions.
For this reason, Rodacciai has had to demonstrate to its customers that it works with transparent criteria and unambiguous processes to guarantee products of a constant and repeatable high quality over time.
To guarantee the reliability of its processes, since 1990 Rodacciai has obtained the ISO 9001 system certification from IGQ, the Italian Institute of Quality Assurance, part of the CISQ federation and accredited by ACCREDIA, the Italian Authority for the Accreditation of Certification Bodies, and by ANAB, the ANSI-ASQ National Accreditation Body in the United States, in addition to being a member of IQNet (International Certification Network). This certification, extended to all Italian peripheral deposits, certifies that the entire company operates in full compliance with the ISO 9000 standards relative to quality management systems.

In the ongoing development of its quality policy, Rodacciai has subsequently obtained several TÜV Nord and CWB (Canadian Welding Bureau) product certifications for the welding supply materials and IGQ product certifications for structural steel hot-rolled products (CE mark).
TÜV has also issued the certification for the stainless steel bars destined for the construction of pressure vessels according to the AD 2000-Merkblatt W0 scheme.
Another type of market has requested the certification for the provision of materials compliant with German construction requirements (Ü mark), for both welding supply materials (certification issued by the German railway authority DB ("Deutsche Bahn AG") and for stainless steel bars and rolls (issued by TÜV).
In compliance with the European directive 97/23/EC on pressure vessels (PED), the processes relative to the provision of the products covered by this directive have been included in the ISO 9001 certification by IGQ.
Finally, for ribbed stainless steel products, the ISO 9001 system certification has been obtained as well as the product certification by Cares, the English building certification authority, and by CSLP, the Central Technical Service of the Italian Ministry of Public Works, according to Ministerial Decree 14.01.2008.

All of these certifications, which are continuously updated, ensure that the client is fully compliant with the regulations in force and are synonymous with good quality.
DOWNLOAD Quality
Quality policy

Quality policy

List of substances and declaration for Reach regulation

REACH Regulation 2006/1907/EC

Safety information sheet. Guideline (CE) n. 1907/2006 (REACH) mod with 2015/830/UE

Stainless steels for general and welding application.

Safety information sheet. Guideline (CE) n. 1907/2006 (REACH) mod with 2015/830/UE

Carbon steels and low alloy steels with lead

Safety information sheet. Guideline (CE) n. 1907/2006 (REACH) mod with 2015/830/UE

Carbon and low alloy steels

Notifiche SCIP

SCIP - Database for information on Substances of Concern In articles as such or in complex objects (Products) established under the Waste Framework Directive (WFD).

IGQ - Quality System CertificateUNI EN ISO 9001:2015

Certificate for the quality management system issued for production units in Bosisio / Sirone and the warehouses in Ancona, Bergamo, Bologna, Brescia, Padua, Turin issued by IGQ Milan

IGQ - Certification for environmental management system ISO 14001: 2015

Certification for environmental management system for production unit of Bosisio – issued by IGQ Milano.

Cares - Quality System CertificateBS EN ISO 9001:2015

Certificate for the quality management system for the production unit in Bosisio issued by the UK Certification Authority for Reinforcing Steels

Cares. Certificate of product conformityBS 6744

Certificate of product conformity for ribbed and smooth stainless steel bars and coils for reinforced concrete issued by the UK Certification Authority for Reinforcing Steels

Ministry of Public Works - Certificates of qualification according to MD 14.01.2008 "Technical standards for construction" for bars and coils - Bars

Qualification for the production of improved adherence hot-rolled stainless steel bars and coils issued by the Central Technical Service of the Ministry of Italian Public Works - Bars

Ministry of Public Works - certificates of qualification according to MD 14.01.2008 "Technical standards for construction" for bars and coils - coils

Qualification for the production of improved adherence hot-rolled stainless steel bars and coils issued by the Central Technical Service of the Ministry of Italian Public Works - rolls

IGQ - Certificate of conformity of productUNI EN 10025-1 REGULATION 305/2011/EU

Certificate of factory production control for hot-rolled structural steel CE marking issued by IGQ Milan

TUV Nord - Statement for the production according to AD2000 Merkblatt W0 - W2 - W7 Directive

Statement relevant to the manufacturing processes in place at the sites of Bosisio/Sirone for the management of the process relevant to steel grades 1.4301 - 1.4307 - 1.1104 - 1.4404 - 1.4435 - 1.4541 - 1.4571 - 25Crmo4 - 42CrMo4 - 21CrMoV5-7 - S355J2+N

IGQ - Certificate for production according to Directive 2014/68/EU (PED)

Statement relating to manufacturing processes implemented in the Bosisio / Sirone sites included in the certificate for the quality management system IGQ9002 issued by IGQ Milan

TÜV Nord - Certificate of product conformityEN 12074

Product certificate for welding materials issued by TÜV Nord, Essen

CWB - Certificate of product conformityASME SFA-5.9 & SFA-5.9M

Product certificate for electrode wire and rods for welding issued by CWB Canadian Welding Bureau

IGQ – Certificate of conformity of the product EN 10343 CPR Directive 305/2011/EU

Certificate of conformity of the factory production control for steels for quenching and tempering for construction purpose wit CE Mark - issued by IGQ Milano.

TÜV – Certificate of conformity of products to Regulation CPR 305/2011/EU

Certification on the factory production control for stainless steel welding consumables with CE mark – issued by TÜV Nord

TÜV Nord - Certificate of Product Conformity BS EN 13479

UKCA marking for welding filler materials issued by TÜV Nord in Essen - TÜV UK
vUK certification mark replacing CE marking after leaving the European Union

DB – Certificate of conformity of products to VA 918 490 Jan 2016

Product certification for stainless steel welding consumables released by DB Systemtechnik of Minden related to grades 307Si, 308LSi, 309LSi, 316LSi, 318Si

European Directives RoHS - RAEE - WEEE – EVL

-

Materiali ed Oggetti destinati a venire a contatto con Prodotti Alimentari (MOCA)

--

Radioactrive Contamination of our products.

Radioactive Contamination of our products. Directive 2013/59 Euratom and. D. lgs. NR 101 of 31/07/2020

Cadmium free declaration

-

Table of packaging types

-

Percentage of recycled material

This is a declaration regarding the percentage of recycled material present in Rodacciai's products.

PFASs (polyfluoroalkyl) free declaration

-

Declaration of conformity EU 2019/1021 POPs

-

Annex XVII Reg. 833/2014, Package of Sanctions against Russia.

-