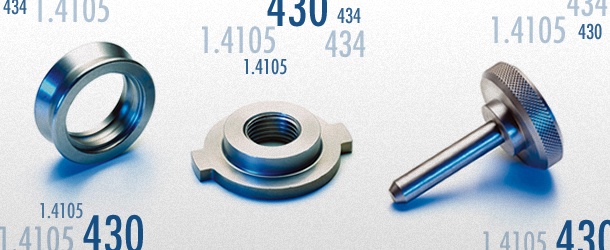 Stainless steels ferritic
Corrosion-resistant, non-temperable steels
The ferritic stainless steels, which are characterized by a ferritic structure, cannot be tempered, but the mechanical strength characteristics can in any case be improved thanks to cold deformation or drawing. The chromium content ensures a good resistance to corrosion, further increased in the variety with the addition of molybdenum, while the addition of sulfur allows the machinability by chip removal to be improved.

The steels of this category are often used in the white (appliances) sector, for the production of grills, and whenever a generic resistance to corrosion is required without very accentuated characteristics.
RANGE Stainless steels ferritic
Steel name

X6Cr17 - Nr.1.4016

Basic ferritic stainless steel with a good resistance to corrosion: widely used in appliances, grills and the automobile industry. Difficult to machine by chip removal but with good cold deformability qualities. Some precautions are necessary during welding.

Steel name

X3CrNb17-Nr.1.4511

Acciaio simile al 430, con l'aggiunta di Niobio ne migliora la lavorabilità alla macchina utensile.

Steel name

X6CrMoS17 - Nr.1.4105

It is similar to the previous one, but the addition of sulfur improves its machinability, making it however less resistant to corrosion. Used for machining with chip removal, it is the low carbon version of the American 430F type. It is also used because of its low magnetic hysteresis characteristics.

Steel name

X6CrMo17-1 - Nr.1.4113

Steel similar to 430 with the addition of molybdenum, which confers a good resistance to atmospheric corrosion at room temperature and at higher temperatures.