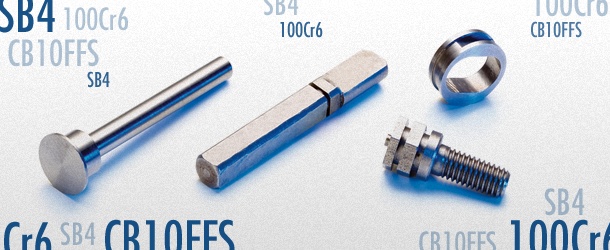 Special steels for cold forming and steels for bearings
Steels suitable for cold forming and steels for the production of bearing parts
The steels for cold deformation possess a chemical composition with low carbon and an analytical balance that improves the possibility of obtaining cold forged pieces even with large deformations.

The steel for bearings that is currently in Rodacciai's production range is the type most commonly used for the production of ball bearings, rollers, rings, and pieces for bearings, both by chip removal and cold deformation.
RANGE Special steels for cold forming and steels for bearings
Steel name

C4C - Nr.1.0303

Steel with a very low carbon content, intended for the cold forming of very deformed and difficult-to-obtain small parts.

Steel name

C10C - Nr.1.0214

Low carbon steel with a chemical composition specially designed for cold deformation. The pieces obtained are generally subjected to carburization and tempering.

Base steel for the production of balls, rollers and rings for bearings, and for all small parts that must be subjected to localized and repeated loads. The high carbon and chromium content allows high hardness and perfectly transformed structures to be obtained after tempering. When it must be machined by chip removal or cold deformation, it must always be provided at the globulization annealing state.